The Super Bowl: The Ultimate 4K Experience on a Samsung Smart TV
The Super Bowl is one of the most highly anticipated events in the United States, bringing together friends and families to cheer on their favorite teams. And with this year's event just around the corner, now is the time to upgrade your viewing experience to the next level. One way to do this is by watching the game on a Samsung Smart TV with a 4K resolution.
4K resolution, also known as Ultra HD, offers four times the detail of Full HD resolution. This means that you'll be able to see every blade of grass, every bead of sweat, and every expression on the players' faces with stunning clarity. With a 4K resolution, the Super Bowl will feel like you're watching it live from the stands.
Samsung is one of the leading manufacturers of 4K TVs, and their Smart TVs offer a seamless viewing experience. The Smart TV feature allows you to easily access your favorite streaming services, like Netflix, Hulu, and YouTube, without having to switch inputs on your TV. And with Samsung's Smart Hub, you can access all your content from one convenient place.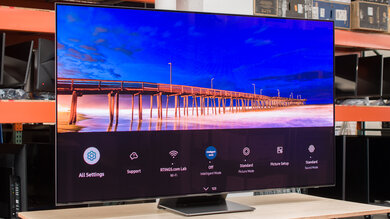 One of the standout features of Samsung's Smart TVs is their ability to adapt to the content you're watching. For example, when you're watching a sports game, the TV will automatically switch to a Sports mode that optimizes the picture and sound for the best viewing experience. The same goes for movies, music, and more.
In addition to their 4K resolution and Smart TV capabilities, Samsung's TVs also offer a sleek and modern design that will enhance any living room. With their thin bezels and subtle curves, these TVs are not just functional, but they're also aesthetically pleasing.
Amazing Features Of Samsung's Smart TV:
Samsung Smart TVs have a wide range of features, including:
Smart Hub: A central interface for accessing all of your TV's content and apps, including streaming services like Netflix and Hulu, live TV, and your personal media files.
Voice Control: You can use voice commands to control your TV and navigate its various features, including adjusting the volume and changing channels.
Screen Mirroring: You can easily mirror your smartphone or tablet screen to your TV, allowing you to view and share content from your mobile devices on the big screen.
Built-in Streaming Services: Many Samsung Smart TVs come with built-in support for popular streaming services, such as Netflix, Hulu, and Amazon Prime Video.
4K UHD Resolution: Many Samsung Smart TVs support 4K UHD (Ultra High Definition) resolution, providing you with crisp, clear, and detailed picture quality.
HDR: Samsung Smart TVs support High Dynamic Range (HDR) content, which provides increased contrast, greater brightness, and a wider color range for a more immersive viewing experience.
Ambient Mode: Samsung's Ambient Mode turns your TV into a stylish piece of art or information display when it's not being used for entertainment.
SmartThings App: Samsung Smart TVs are compatible with the SmartThings app, which allows you to control your other smart devices from your TV, including lights, thermostats, and home security systems.
These are just some of the features that you can expect to find in a Samsung Smart TV. The specific features of your TV will depend on the model and the year it was released.
Pricing Structure :
Samsung's smart TV pricing varies widely depending on the size, features, and technology included in the TV. The prices of Samsung's smart TVs range from a few hundred dollars for a small, entry-level model, to several thousand dollars for a larger, high-end model with the latest features and technology.
Here is a rough pricing guide for Samsung's smart TVs:
Entry-level models: $300 to $500
Mid-range models: $500 to $1000
High-end models: $1000 to $3000
Premium models: $3000 and above
It's important to note that these prices are subject to change, and actual prices may vary depending on factors such as sales, promotions, and location. Additionally, the prices of smart TVs can fluctuate throughout the year, with some models becoming more expensive during the holidays and others becoming more affordable at other times.
PROS and CONS Of Samsung's Smart TV:
here are some pros and cons of Samsung's Smart TVs:
Pros:
Sleek and attractive design: Samsung's Smart TVs have a modern and sleek design that will look great in any living room.
Wide range of sizes: Samsung offers a wide range of sizes, from small 32-inch TVs to massive 82-inch models, so you can choose the right size for your room.
User-friendly interface: Samsung's Smart TV interface is user-friendly and easy to navigate, making it simple to access your favorite apps and content.
Excellent picture quality: Samsung's Smart TVs offer excellent picture quality with rich colors and deep blacks, making for an immersive viewing experience.
Strong connectivity: Samsung's Smart TVs have strong connectivity options, including Wi-Fi, Ethernet, and Bluetooth, so you can easily connect to other devices.
Cons:
High cost: Samsung's Smart TVs can be more expensive compared to other brands, making them a luxury for some consumers.
Limited app store: While Samsung's Smart TV has a wide range of popular apps, its app store is not as extensive as some other platforms, such as Roku or Amazon Fire TV.
Software bugs: Some users have reported issues with software bugs and glitches on Samsung's Smart TVs, which can be frustrating.
Occasional performance lag: Some users have reported occasional performance lag when using Samsung's Smart TV, especially when running multiple apps at once.
Complex settings: The settings and customization options on Samsung's Smart TV can be complex and confusing for some users, making it difficult to get the most out of the device.
Last Verdict
So why settle for a mediocre viewing experience when you can enjoy the Super Bowl in its full glory? Upgrade to a Samsung Smart TV with 4K resolution and experience the game like never before. Whether you're rooting for the AFC or NFC, this is the perfect way to immerse yourself in the action and make the most of your Super Bowl viewing experience.