Logitech MX Master 3 Wireless Mouse Overview
The wireless Logitech MX Master 3 mouse has been created with comfort and productivity in mind. It is the popular MX Master 2S replacement and offers a number of upgrades over the latter.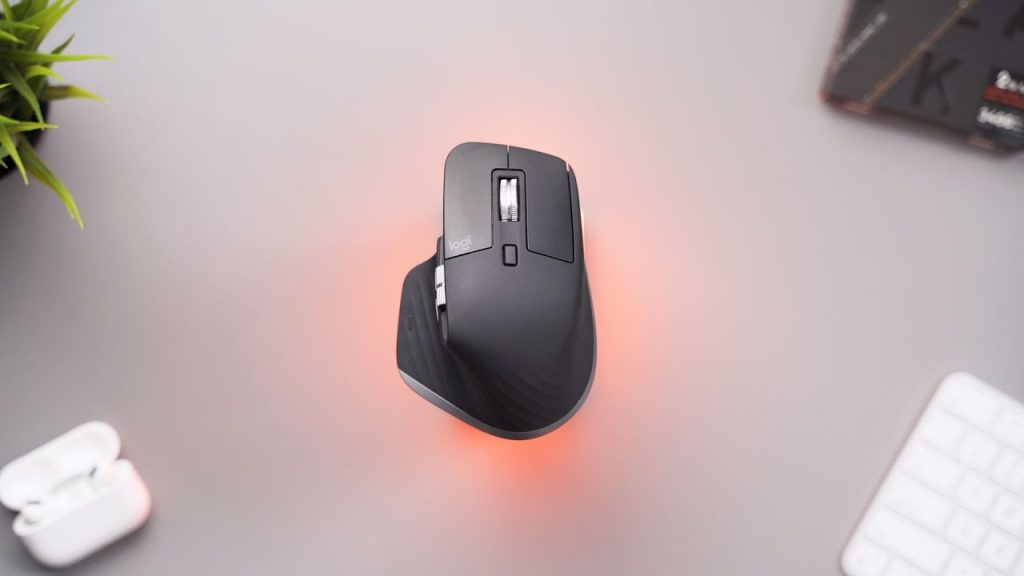 Design And Features
The ergonomically designed MX Master 3 offers a stylish and cozy appearance that fits the form of your hand. It is a right-handed mouse that has been built to support your palm and fingers while also giving your thumb a comfortable place to rest. The mouse features a robust structure that feels durable and is covered in a soft-touch material for a comfortable grip.
Six programmable buttons on the MX Master 3 can be configured to carry out particular tasks. The buttons are placed thoughtfully for convenient access and give a satisfying tactile response when pressed. The mouse also features a special thumbwheel for gesture control and horizontal scrolling. When utilized properly, the thumbwheel can be used for a variety of purposes and can significantly increase productivity.
The mouse includes a very accurate sensor with a tracking range of up to 4000 DPI, making it responsive and accurate. The mouse also features Logitech's Flow technology, which enables seamless device switching. With this function, you can toggle between up to three devices at once and control them all at once.
Performance:
A high-performance mouse that is excellent for productivity is the MX Master 3. The mouse works effectively on a variety of surfaces and has precise, fluid tracking. The six customizable buttons are a terrific addition that gives you the flexibility to design your workflow exactly how you want it. A special and practical feature that can significantly improve productivity and horizontal scrolling is the thumbwheel.
With a single charge, the mouse's battery life can last up to 70 days. It also includes a quick charging capability that allows you to use it for three hours after just a minute of charging. The mouse's USB-C charging port is a nice improvement over the micro-USB charging port used by its predecessor.
Value:
The Logitech MX Master 3 is a high-end mouse with an equally high price. Yet, if you frequently use the computer, its features and performance make the cost worthwhile. Long durations of use are made comfortable by the mouse's sturdy construction and ergonomic design, and its customization possibilities may increase output.
Pros & Cons of Logitech MX Master 3:
Pros:
Comfortable design: The MX Master 3 is designed to fit comfortably in your hand, with a contoured shape that conforms to your palm and fingers. This can help reduce fatigue during long hours of use.
Customizable buttons: The MX Master 3 has several customizable buttons that can be programmed to perform specific tasks or functions. This can be particularly useful for streamlining your workflow and increasing your productivity.
Precise tracking: The mouse uses Logitech's Darkfield tracking technology, which allows it to track accurately on any surface, including glass. This can be particularly useful if you need to work on multiple surfaces.
Easy switching between devices: The MX Master 3 can be paired with up to three devices simultaneously, and you can easily switch between them with the press of a button. This can be particularly useful if you need to switch between your computer, tablet, and phone.
Cons:
Expensive: The MX Master 3 is more expensive than many other mice on the market, which may make it less accessible to some users.
Heavy: The mouse is relatively heavy compared to other mice, which may make it less comfortable for some users.
Limited compatibility: The MX Master 3 is primarily designed for use with Windows and macOS devices, and it may not work as well with other operating systems or devices.
May not be suitable for gaming: While the MX Master 3 is designed for productivity, it may not be the best choice for gaming, as it may not provide the level of precision and responsiveness that gamers require.
Conclusion:
The Logitech MX Master 3 is a great wireless mouse all around that is ideal for comfort and productivity. For anyone who spends a lot of time on the computer, its distinctive thumbwheel, programmable buttons, and Logitech Flow technology make it an effective tool. The mouse has an amazing build quality, a long battery life, and an ergonomic design that makes it easy to use for prolonged periods of time. The MX Master 3 is unquestionably something to think about if you're looking for a high-end wireless mouse.