Meet The Second Generation: Apple HomePod
Apple HomePod is a smart speaker invented by Apple Inc. It was first released in February 2018 and runs on Apple's proprietary operating system, iPad. The HomePod is equipped with advanced audio technology, which contains a high-excursion woofer and seven beamforming tweeters, to produce rich and deep bass and clear, crisp audio. The HomePod has a sleek and consolidated design, available in two finishes: Space Gray and White. It is designed to blend seamlessly into any home decor and can be placed on any flat surface. The HomePod also has touch controls on the top for adjusting the volume and playing/pausing music.
Key Features Of Apple HomePod
One of the key features of the HomePod is Siri, Apple's virtual assistant, which can respond to voice commands to play music, set reminders, send messages, and control smart home devices.
The HomePod also integrates with Apple Music, allowing users to access over 60 million songs and other content with their voice.
Additionally, the HomePod can also act as a hub for the HomeKit, Apple's home automation platform, allowing users to control their smart home devices with their voice.
How Can We Setup Apple HomePod
Setting up an Apple HomePod is a simple process. Here's how you can do it:
Plug in the HomePod and wait for it to start up.
Make sure that your iPhone or iPad is running the latest version of iOS and is connected to the same Wi-Fi network as the HomePod.
Open the Home app on your iOS device and tap the "Add Accessory" button.
Hold your iOS device near the HomePod to automatically catch it.
Follow the on-screen instructions to set up the HomePod. You'll be prompted to choose a room for the HomePod, set up Siri, and sign in with your Apple ID.
After the setup is complete, you can use Siri to play music, set reminders, and control smart home devices. You can also use the touch controls on the top of the HomePod to adjust the volume, play/pause music, and skip tracks.
You can also use the Home app to manage your HomePod, including changing its settings and adding it to automation.
That's it! Your Apple HomePod is now set up and ready to use.
How Can We Connect Apple HomePod To Apple TV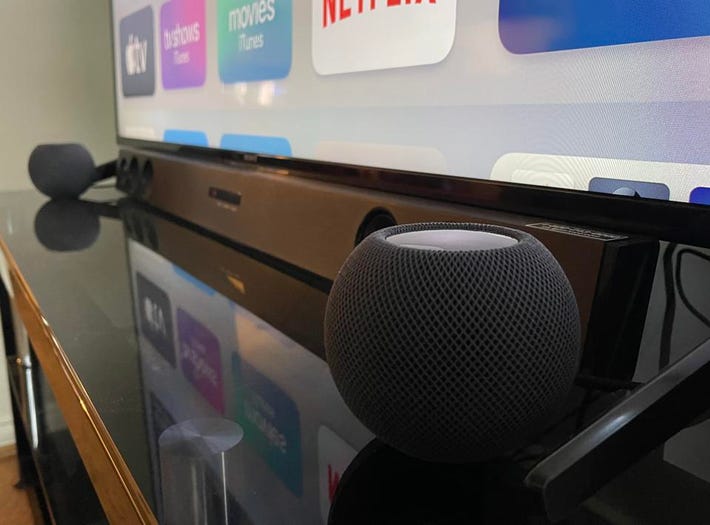 Make sure both devices are on the same Wi-Fi network.
Place your HomePod near your Apple TV.
Use your Apple TV remote and navigate to the "Home" screen.
Select "Settings."
Select "AirPlay & HomeKit."
Enable "AirPlay."
Select your HomePod from the list of available AirPlay speakers.
You should now be able to hear the audio from your Apple TV on your HomePod.
Note: Your Apple TV must be running tvOS 11.2 or later for this to work.
Conclusion:
In recap, the Apple HomePod is a high-quality smart speaker that offers excellent sound quality and integrates with Apple's ecosystem to provide a seamless and integrated experience for users.